You are not a designer, I know. That doesn't mean your ignorance has to make the rest of society suffer with tear-inducing visual pollution for the rest of our life.
Here are five things that you can keep in mind to generally ensure that the design work you approve isn't really f**king ugly. I write this with a heavy heart after being assaulted by horrifying visuals from businesses whose owners should have better taste.
1. STICK TO SIMPLE FONTS
If you use Comic Sans, Curlz, Papayrus, or any other retarded font, anyone who knows anything about visual integrity will want to spit in your face.
Here is a list of fonts that you should NOT EVER use: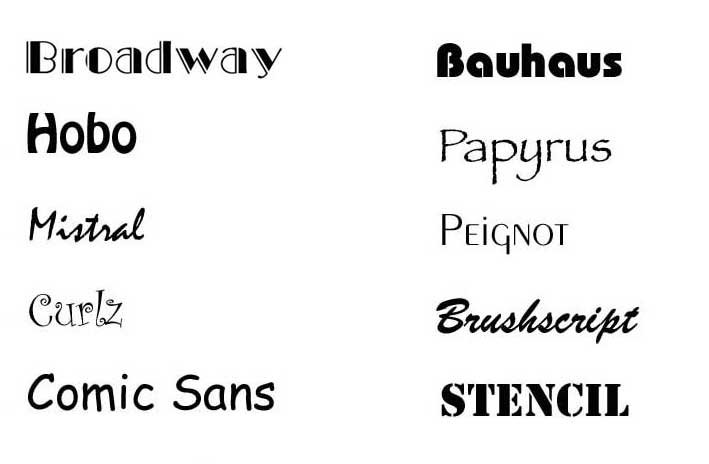 I mean, it's barely okay to use Comic Sans to print a sign that says "Don't throw toilet paper in the toilet seat." It is a CRIME to use it in your logo. I will not buy your product or visit your restaurant because you are a cheap ass who did not hire a real designer. لأ حبيبي، مش شطارة إلكحتته.
Here is a fool-proof list of good typefaces.
2. DO NOT USE GRADIENTS
Gradients are the spawn of the devil. Avoid at all costs.
I will not use my credit card on your website if it is a mess of Comic Sans and gradients. I will not use your website at all, actually.
3. DO NOT USE CLASHING COLORS
Your clothes look nice, so why does the work you approve look so ugly? If the interior design of your stupid restaurant was an outfit, would you wear it? I didn't think so. No one wants to look like they stepped out of a studio on Jordan TV from 1988.
Yes, yes, I know that you may not know anything about color theory, but there are so many resources out there that explain how color theory works. Use them.
In an "open" world, there are no excuses. Here is a great place to start from: Colour Lovers.
4. EMBRACE SIMPLICITY
Nothing ever went wrong because something is really simple. Things always go wrong because they become too complicated.
Simple is the way to go. Steer clear of shadows, backgrounds behind text, outlines, etc.
5. DON'T BE ARROGANT, ASSHOLE
I know you are da shit. I know that you have an MBA from Amreecha, and that you have a nice golden nameplate in front of your desk that starts with the letter C. I know that you have money, and that you traveled the world.
It doesn't mean you know anything about design. I've seen so many people who theoretically should at least have good taste given their worldliness, but who turn out to be disastrous with visual logic. If you hire a good designer, trust the good designer.
If you dislike trusting people on matters you know nothing about (and for that, I salute you), then learn something about it. There are many, many websites that have graphic design inspiration, web design inspiration, etc.
I am not asking you to learn to design, just to be able to spot the good from the bad.
So yes. I beg you. Take these five things and use them well. Share them with people you know. I didn't make them up; they will simply improve our life and make sure that the future generations don't have to live in the ugliness that your generation made us go through.
Thank you.