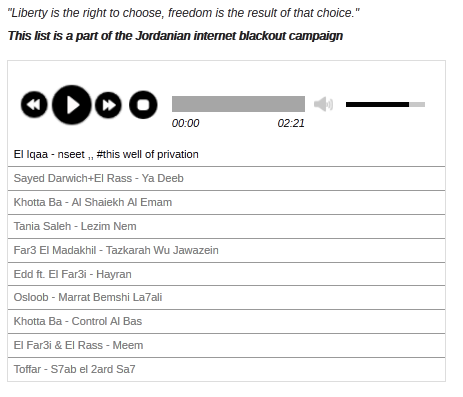 As Jordanian websites blackout in reaction to a new Jordanian bill that imposes censorship on the Internet, local music blog Musicalism creates a "Hurriyeh" (freedom) playlist to accompany the sad occasion.
AndFarAway is one of the many sites that blacked out today, but not as a form of protest. Who are we kidding? There is never any space to protest in this country of ours. After all, the act of protesting usually entails an attempt to influence public opinion or government policy, and in Jordan, that's not the way the game is played. What we think means nothing at all, to anyone at all.
Instead, AndFarAway joins the blackout by donning the black as a final funeral walk lamenting the death of freedom of Internet in Jordan.
There is no space or place for romanticism.
There is reality.
And reality spells death, and not just the death of freedom of the Internet, but also of our spirit.
Thank you, our dear Jordanian government, for killing the spark of change and action in the hearts of the few of us who had hope for a better tomorrow.
I will leave you with the music.