Orson,
Your words have been the pleasure of my life for the past three weeks. I even left the party an hour early this weekend just to have time to read a bit of "Ender's Shadow" before bed. Yes. Really. And it's not like we have parties every day in this city, if you know what I mean.
Yet, the universe you've built is hard to resist. Your characters are brilliantly formed. Your philosophical quips on god, existence, species, the genders, gravity, and colonization have made me a slightly more intelligent human. Your narration is simple, sweet, and to the point. Your plot lines are crazy.
It's simple: I love your books.
And there lies my problem.
Orson, I'm just human. My petition to make 28-hour days in lieu of 24-hour days was aggressively rebuffed by the math nerds. They just haven't read enough sci-fi in their lives to understand that the sun and the moon and the solar system and the stars and the sky and other species and the galaxy and space exploration and gravity and all the other cool things simply shit on the 24-hour day. Who needs the sun when you're in space? But they refused. They won't give me longer days to read more, and thus, I only have an hour to spend on books.
That's one issue. Time in the day.
As you also know, they haven't invented inter-galagtic space travel yet, and I am aging very quickly. I have limited time to read, not just in terms of hours a day, but also in terms of years per life. That makes me itch to be surrounded by voices of other than yourself, as quickly as possible. THERE ARE SO MANY GREAT AUTHORS OUT THERE. I still have to read Rushdy, Ovid, Dostoevsky, Proust, Miller, Thoreau, among countless others. I know you understand.
That's a second issue. I am not on Earth forever.
Orson, in the past three weeks, I've read nothing but Ender's Game, Speaker for the Dead, Xenocide, Children of the Mind and Ender's Shadow. That's all you. From that one universe. And you know what really, really sucks? I'm having a very hard time resisting the rest of the eleven novels, twelve short stories, and 47 comic issues.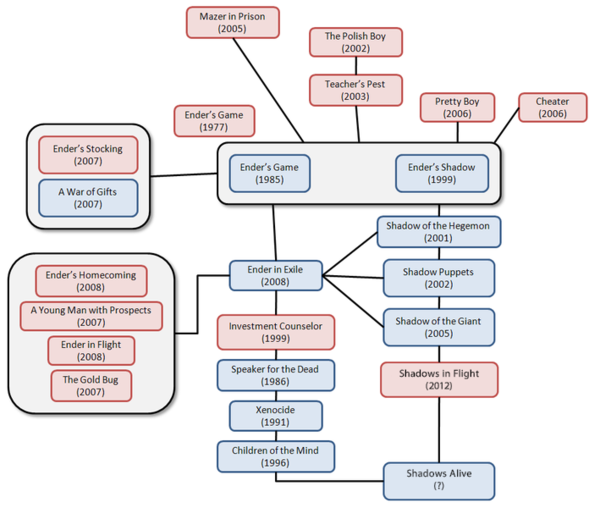 ORSON! That would take me over TWO WHOLE MONTH, and that's just selfish of you, because it takes from my growing time as a person.
That's issue number three. Ender and his friends are hard to resist.
Please stop writing books. It isn't fair.
Much love,
Roba